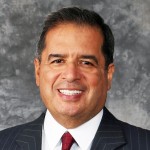 Mr. Gonzalez's professional experience has resulted in a unique set of skills allowing him to understand business, education, and community service from a global perspective. He has built numerous successful programs and business models that continue to thrive. He and his wife formed ETC in 1986.
Mr. Gonzalez holds a B.A. in Political Science and Psychology from Indiana University. He worked as an employment and training planner for the Houston-Galveston Area Council and then as a researcher and project officer for the U.S. Department of Labor. Mr. Gonzalez started R. Gonzalez & Associates, Inc., a management consulting firm specializing in proposal and bid preparations, program development, and administration of vocational education, job training, and other government projects. In addition, his company sold personal computers and software, and provided computer repair and network installation under the dba RGA Computer Systems.
Mr. Gonzalez is an active member of the community and serves on the boards of the University of St. Thomas School of Education, the University of Houston Dean's Advisory Board for the School of Education, the Houston A+ Challenge (Annenberg Foundation) and Lamar High School's Shared Decision Making and Project Advisory Committees. He has held leadership roles as the Chair of the HISD Peer Task Force, specifically organized to improve graduation outcomes and reduce dropout rates in the district, as well as the HISD Partnership Advisory Committee, designed to bring private industry groups into schools; the National Association of Employment & Training Contractors, the Greater Houston P16+ Council, the Children's Museum of Houston, and the Inner City Games Foundation/After School All-Stars Foundation.
Mr. Gonzalez has received numerous awards and recognitions including:
Mayoral Proclamation Naming December 21, 2007 as Irma and Roberto Gonzalez Day
Houston Fiestas Patrias Distinguished Hispanic of the Year Award,  2005
Houston Texas' Foundation NFL Community Quarterback, 2004
HISD Board of Trustees Commendation for Outstanding Achievement 2003 and 2007
Houston Association of Partners in Education Business Volunteer of the Year, 1997
Houston Association of Hispanic School Administrations Estrella Award, 1996
Texas Association of Partners in Education, Business Volunteer of the Year