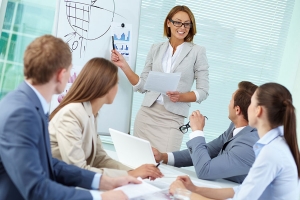 We offer training that will help you hire talented workers, retain them, and control costs. Training can be offered to your current employees or as part of a pre-employment requirement to support your mission, manage change, or update skill sets. Filling your ranks with well-trained employees allows you to serve your customers better and supports your long-term success.
Instruction is customizable, so if there is something specific you're looking for, please contact us. Some examples include:
Closing skill gaps. We work with over 100 local companies to raise employee skill levels. Positions vary widely from auto glass installers and clerks to insurance sales agents, machinists, and telemarketers. Employers tell us what they need and we'll either design or implement the training in-house or, we can set up instruction through local community colleges and universities.
Software training. The tools used in today's workplace constantly change, especially when it comes to technology.  We can assist you and your employees embrace the ever-changing world of technology by providing training on current systems and programs.
Safety.  We provide training to your standards to ensure your employees understand how to avoid dangerous situations, abide by company policies, and respond appropriately in emergencies.
EEOC and Sexual Harassment. To protect your company from liability, we provide training on compliance with EEOC policies, including discrimination and harassment. We can also train your staff on how to respond to claims and help you develop policies and procedures that represents best practices.
English and foreign language instruction.  Most foreign candidates and workers already have advanced English skills, but those skills may need to be sharpened to ensure technical, local, or specialized language is understood, safety procedures are followed, and customers are served well. ETC can tailor courses to achieve the levels of proficiency your company requires.
Preparing expatriate workers for culture shock. One of the challenges of hiring people from across the globe is integrating them into the culture of your city and organization.  ETC uses a program that helps bridge the cultural gaps and readies workers for their eventual assignments. The program boosts worker morale and retention rates.
Please call us for additional or customized offerings.  We pride ourselves on our ability to listen to what our customers want and can tailor on-site or on-line training to fit your needs.