There's nothing like hearing my grocery store cashier say "Thank you Mrs. Janssen, you just saved X amount of money today shopping here."  Ding!  I'm happy to ring that silver bell on the counter.  Who wouldn't want to save money on things they need to buy anyway?
I can't say that I've turned down these savings, especially in the wake of higher prices, taxes…and not to mention stress levels.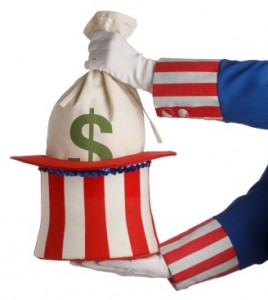 I find this to be true outside the grocery store and in the employment arena as well.  As a project manager I enjoy notifying a client in a similar way, "your new hires just earned you X amount of money in tax credits." 
In this day and age, it's important that we all take a look at how we can make money on our money.  (I wrote a little on this before and if you missed it, you can read about it here: Is Your Company Capitalizing on 'Free Money'?)
March and April are fast approaching and the unavoidable tax season is upon us.   Each day Yahoo! features an article on this topic; however, we find that employers don't necessarily capitalize on the hiring credits that are available.
In Jill Schlesinger's article for Yahoo! Finance, she writes "Tax credits are the best tax deal going, because they reduce your taxes dollar for dollar, instead of being calculated based on your tax bracket." source
Amen!
For example, and because Schlesigner's statement is so profound, I feel this recent case speaks volumes about the potential incentives for employers.
One of our clients hired over 1800 employees and ETC was given the opportunity to review each one for eligible credits, reimbursements, and incentives.   We researched the available incentives, streamlined the process and filing to help derive profit from the existing operation.
Of the 1800 researched, 254 employees were deemed eligible by the state which represented $174,000 in credits.  There's something to be said for saving on current hire investments and making this tax season a tad more digestible!
I realize that saving at the grocery store versus saving through tax credits is like comparing apples to oranges, as one pays off at the end of the year and the other yields instant savings.  However, there are various and creative ways to gain additional funds and ETC works to uncover the unadvertised incentives.
Would you like to see how you can maximize your financial opportunity by using these incentives?  Contact us today for a risk free assessment.  Our business is your success…we can help you get all the credit you deserve.
Aleesa Janssen, PHR,  and Project Manager for ETC
[contact-form-7 404 "Not Found"]